The final value of an option is completely dependent on the price of the underlying stock on the expiration date, making the value much easier to calculate.
But just because you've worked out some numbers and found reasonable values ​​for options doesn't mean you know how to trade them profitably. The secret sauce is to use your understanding of option pricing to predict how it will change in the future.
Primarily, that understanding comes down to interpreting how various pricing factors, known as option Greeks, change over time. The most important Greeks are Delta, Theta, Vega and Gamma.
And while gamma is the least understood by the Greeks, it also has the potential to be their most influential.
What is gamma?
Simply put, gamma is Delta changes. Options with high gamma values ​​change much faster than options with low gamma values.
In more technical terms, gamma is the rate of change of delta. Basically, if you have a call option with a delta of 0.20 and a gamma of 0.02, a $1 increase in the stock will increase the delta from 0.02 to 0.22.
Being long gamma is the same as being long option. This is because all long option positions have a positive gamma and all short option positions have a negative gamma.
If you're trying to ride a stock trend, you want a very long gamma. High gamma is like a snowball rolling down a hill when a stock is trending. As stock prices continue their trend, long gamma positions are increasingly profitable the longer the trend lasts.
This works because as the stock price rises, the high gamma pushes the delta upwards, making each successive move more significant from a P&L perspective.
The relationship between gamma and time and money
As a general rule, the closer the option strike price is to the at-the-money strike price, the higher the gamma. The more out-of-the-money it is, the lower its gamma.
Additionally, gamma increases as the option nears expiration.To intuitively understand this, select the option ExpirationDelta is either 1 (expired ITM) or 0 (expired OTM and therefore worthless).
Let's turn the clock back 5 minutes. The underlying asset is 99.95 and you own 100 calls. The fate of this option will be decided in 5 minutes, so the delta will be either 1 or 0. For this reason, when very close to money, it makes sense that the delta would move a lot each time the price changed.
Gamma Risk: An Introduction
Understanding your unique exposure to each Greek pose is one of the building blocks of options trading. You can be more thoughtful when building your positions.
Think of gamma as the horsepower rating of an option position. The higher the gamma, the faster the option price can change. A little pressure on the throttle of your Porsche 911 can make a big move. Conversely, pedaling through a 1970s Honda gives you very little highway speed.
To provide context, let's look at two call options on the same symbol. One with high gamma and one with low gamma.
First, the TSLA 187.5 call trade with delta 0.31, gamma 0.031 is $2.14 and expires in 1 day. Let's see how fast the value of this option changes when the spot TSLA trades at 183.
Remember, this is a napkin calculation. Gamma is not constant, nor are we considering theta decay or vega here. The point is to show how gamma can be like option position rocket fuel. Each time the price increases, subsequent price increases will be more intense.
You often hear the word "convexity" in circles of options, and this is essentially what it means. Convexity, as Simplify Asset Management puts it, is the upward curvature of the return on an investment. See the illustration below.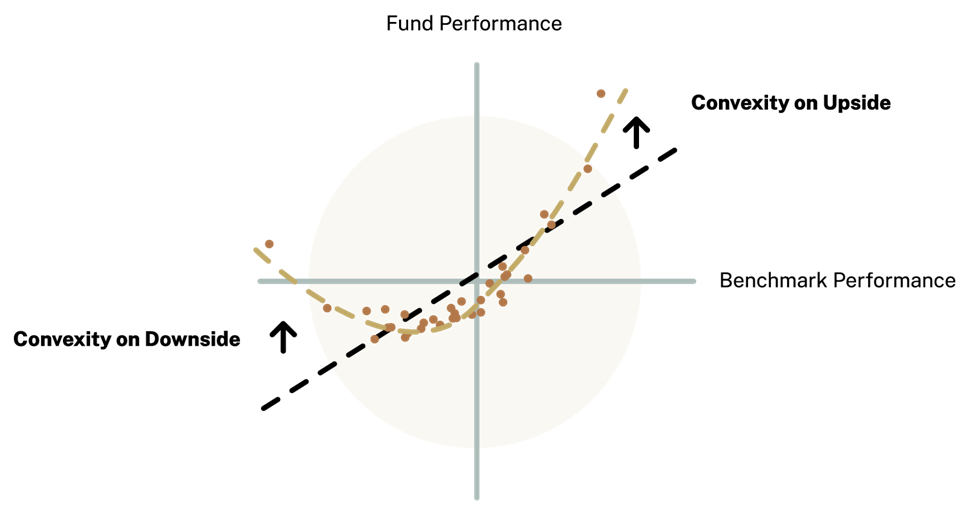 Gamma can be thought of as the slope of the yellow curve. The higher the gamma, the steeper the curve.
The effect of this is that making good calls in long gamma exponentially increases profits. In other words, if he owns the same Tesla Call referenced earlier, his P&L "per tick" increases with each successive tick until he is in the money.
However, you can also go short gamma so that you can go long gamma and benefit greatly from runaway trends in stocks.
While a long gamma sounds nice (and is arguably easier psychologically), a short gamma has some important advantages. Key among them is shorting options. Most options traders agree that there are advantages to shorting options if done right.
Let's go back to the same Tesla call option example we used earlier. However, this time we decide to short the option and leave the polar opposite position. So here we are:
● Delta: -0.31
● Gamma: -0.031
● $2.14 (net credits)
● Expires in 1 day
If the same scenario of Tesla aggressively rebounding were to play out, we would find the same phenomenon to occur. Things get worse and worse as this position turns against us.
Conclusion
We continue to emphasize the concept that trade-offs play a huge role in options trading. Buying options gives you convexity with defined risk, but volatility is expensive on average and usually results in low win rates.
Selling options usually gives us a more stable equity curve with more frequent wins, but we get a little behind when the underlying tends to go against our position and short gamma eats us up quickly. increase.
As you grow as an options trader, you'll learn how each Option Greek presents this kind of complex trade-off and how to elegantly create positions that are very close to your desired exposure.
Related article: